Tsutsumi Method was developed with the aim to enjoy the do-re-mi And each "Do, Re, Mi, fa, Sol, La, Si" to By arranging the seven colors "red, orange, yellow, green, sky blue, blue, pink" of It is a music education method of making play the piano easily. In TECGENIUS, the art work to be able to enjoy familiar with music in everyday life, I have proposed as a work using symbols and notes that are color scheme in seven colors. I hope and if you can be happy you can decorate and put on the forehead, or by gift to loved ones.
ドレミを楽しむことを目的に開発されたTsutsumi Methodは、「ド、レ、ミ、ファ、ソ、ラ、シ」にそれぞれ「赤色、橙色、黄色、緑色、空色、青色、桃色」の7色を配することで、簡単にピアノが弾けるようになる音楽教育メソッドです。
TECGENIUSでは、日常の生活でも音楽に親しみ楽しめるアート作品を、七色に配色された音符や記号をもちいた作品として提案しています。
額に入れて飾ったり、大切な方へプレゼントしたりして喜んでいただければと願っています。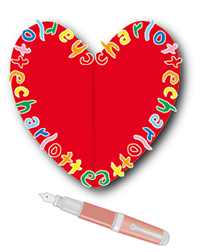 The original design picture and such like words and name of an important person You can put a message.
オリジナルデザイン画には、大切な人の名前や好きな言葉などのメッセージを入れることができます。